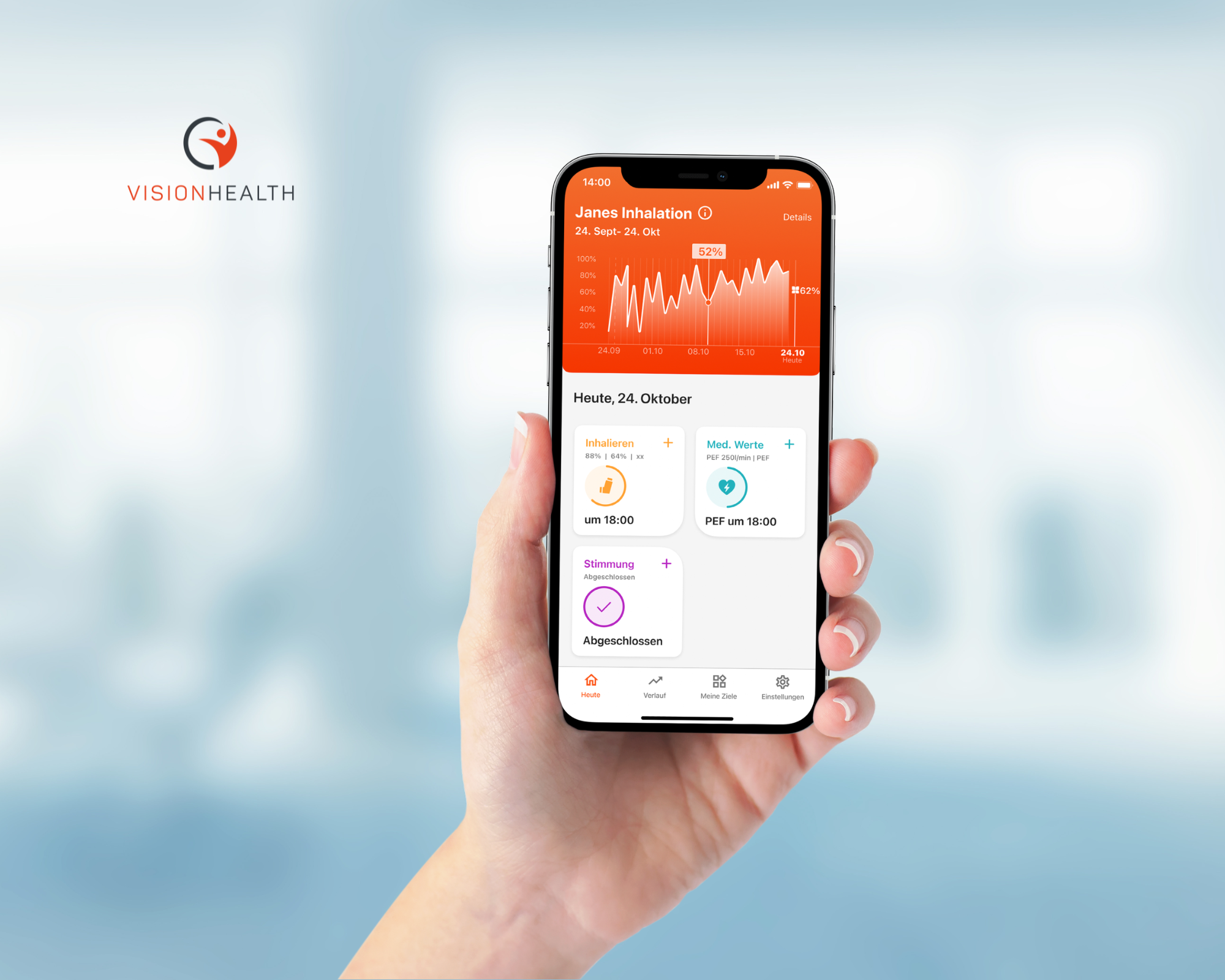 27 Feb

VisionHealth raises 3 million Euro to finance extended COPD and asthma study

VisionHealth raises 3 million Euro to finance extended COPD and asthma study for market preparation of Kata®, an innovative digital therapeutic for improved inhalation 
DB Speciality Invest, an investment firm of

Dr. Dietrich Bruchmann, invests in VisionHealth 

 

Funds will be used for EU and U.S. regulatory approval and commercial launch of the Kata® app in Germany and select European markets 

 
Munich (Germany), February 27, 2023 – VisionHealth GmbH, a pioneer in digital therapeutics (DTx) to enhance inhaled treatment of chronic lung diseases, today announced the successful closing of a 3 million Euro pre-series A financing led by DB Speciality Invest GmbH & Co. KG, Neu-Ulm, Germany. The investment firm is owned by the successful life science entrepreneur Dr. Dietrich Bruchmann, founder and CEO of Nuvisan Pharma Holding GmbH, a renowned and fully integrated Contract Research Organization in Neu-Ulm. Founding and growing his own company, Dr. Dietrich Bruchmann has extensive entrepreneurial experience following his previous management roles with focus on M&A and Business Development at ADCURAM, DuPont and Hoechst. He will take a seat on the non-executive Board of VisionHealth.  
The new funds will be used to finance a second, larger study, which will enable VisionHealth to provide even stronger scientific evidence to decision makers and physicians when evaluating their recommendation of the Kata® app, a class IIa medical device (CE, MDR). The study is designed as a randomly controlled, multi-centric trial over the period of one year with around 120 patients suffering from chronic respiratory diseases asthma or COPD. It will set the basis for market access of Kata® in Germany, further EU countries and potentially, the U.S.. At the same time VisionHealth is working on strategic partnerships to gain growth and tailor its proprietary Kata® technology platform to the specific needs of the industry.  
Dr. Dietrich Bruchmann, founder and CEO of Nuvisan Pharma Holding Group, said: "I am eager to see the potential of Kata® unfold, as access for asthma and COPD patients improves. Heading a CRO active in the respiratory field, I have also been intrigued by the application of the Kata® Clinical app in clinical trials: Incorrect inhaled admission of therapeutics can be a major error factor. Supporting each patient individually via the app on how to administer an inhalator properly improves patient outcomes in everyday life and also the quality of clinical trial results, ensuring maximum benefit from therapy."  
Dr. Sabine Haeussermann, CEO and founder of VisionHealth, added: "We are excited to back up the very positive proof of concept study results with more data on the efficiency of Kata®. With over 2.400 users since the first release, a stunning 83.3 % of users told us they would like to continue using the Kata® App in the future; similar amounts of users would recommend the app to friends with respiratory diseases. It is truly rewarding to see how we can make a difference for patients and improve health outcomes. We greatly appreciate the continued support of our shareholders and of our new investor, Dr. Bruchmann from Nuvisan!"  
VisionHealth's DTx App Kata® is CE marked and a medical device class IIa (MDR). Kata® belongs to the 15 % of medical devices in Europe to have made an early move from satisfying the Medical Device Directive (MDD) to adhering to the new and higher standard Medical Device Regulation (MDR) in Europe. The Kata® app guides patients suffering from chronic respiratory disease like asthma and Chronic Obstructive Pulmonary Disease (COPD) to improve their inhalation technique, leading to a better medication deposition in the lung. The execution of the inhalation process is prone to errors: studies have shown error rates between 32 and 100 %. [1],[2],[3],[4],[5] Incorrect inhalation and the resulting underdosing of drugs cause a high unmet medical need and higher rates of complications and exacerbations in the most prevalent chronic lung diseases, asthma and COPD. [6] Especially in COPD, every exacerbation is known to cause an irreversible loss of lung function. [7] Better disease control with fewer exacerbations and consequently lower hospitalization rates could lead to massive cost savings for public health systems. [6] The Kata® app controls the therapeutic inhalation and trains the patient by providing immediate feedback through its proprietary AI-based algorithm, thus delivering the support that is needed to regularly deposit the intended dose of the drug in the lung. Worldwide, Kata® could support the therapy of approximately 250 million patients suffering from chronic respiratory diseases, with an estimated 8.9 million cases alone in Germany.[8],[9]
About VisionHealth
VisionHealth GmbH is a pioneer of digital therapy support for respiratory diseases. In cooperation with research institutions and selected industry partners, medical experts and IT experts, VisionHealth develops innovative and unique digital health solutions enabling sustainable improvements to existing standard therapies for patients with chronic lung diseases like asthma and COPD. The Munich-based private company was founded in 2017 by inhalation therapy specialists. Investors include business angels and private investors with many years of industry expertise, particularly in inhalation therapies. www.visionhealth.gmbh 

About Kata®
Kata® is a VisionHealth proprietary platform based on artificial intelligence to support inhalation therapy. The aim of the Kata® app for patients is to optimize the drug inhalation therapy of chronic lung diseases through digital support by help of augmented reality using the smartphone camera for immediate feedback and correction. Clinical evidence shows that patients frequently fail to correctly perform their necessary and regular inhalation due to a lack of therapy adherence or knowledge. As a result, the prescribed medications are not adequately delivered to the respiratory airways. A multitude of different devices for drug inhalation increases the training effort for physicians and patients and makes therapy monitoring almost impossible. This issue affects around 250 million people worldwide suffering from chronic lung diseases to whom Kata® could bring urgently needed relief. Kata® is a proprietary platform application providing a completely novel and unique combination of artificial intelligence (AI) and computer animation. Kata® is among the first digital applications to have received medical device certification. Protection of patient sensitive data is ensured via certified ISMS and VisionHealth's improved quality management system. 
A modified Kata® app for clinical trials (Kata® Clinical) combines data and patient management to enhance the participants' experience and improve study outcomes at the same time. Based on the customized adaptation to the specific needs of a study, data collection and management can be conducted more efficiently and are less error-prone due to automation. Kata® Clinical was launched in 2021 and has convinced in a clinical trial with sterna biologicals GmbH, Marburg, Germany. Kata® Clinical is also part of the offering portfolio of several CROs, including Alcedis, Kottmann, and Labcorp.  www.kata-inhalation.com  
Contact
Dr. Sabine Häußermann  |  CEO  |  +49 151 701 865 89  | haeussermann@visionhealth.gmbh
VisionHealth GmbH | Landsberger Str. 72 | 80339 München 
Media Contact
MC Services AG
Katja Arnold / Dr. Brigitte Keller
+49 89 210228 0
visionhealth@mc-services.eu  
References
[1] Press VG et al. J Gen Intern Med. 2011; 26:635-42. https://doi.org/10.1007/s11606-010-1624-2
[2] The Inhaler Error Steering Committee. Respir Med. 2013; 107:37-46. https://doi.org/10.1016/j.rmed.2012.09.17
[3] Price DB et al. J Allergy Clin Immunol Pract. 2017; 5:1071-1081.e9.https://doi.org/10.1016/j.jaip.2017.01.004
[4] Molimard M et al. Eur Resp J. 2017; 49:1601794; https://doi.org/10.1183/13993003.01794-2016
[5] Lindh A et al. Nursing Open 2019; 6:1519–1527; https://doi.org/10.1002/nop2.357
[6] Usmani OS et al. Respiratory Research 2018; 19:10 https://doi.org/10.1186/s12931-017-0710-y
[7] Anzueto A. European Respiratory Review 2010; 19:113; https://doi.org/10.1183/09059180.00002610
[8] Steppuhn H et al. Journal of Health Monitoring 2017; 2: 37-45; https://doi.org/10.17886/RKI-GBE-2017-052 
[9] Steppuhn H et al. Journal of Health Monitoring 2017; 2: 46-54; https://doi.org/10.17886/RKI-GBE-2017-053
This project has received funding from the European Union's Horizon 2020 research and innovation programme under grant agreement No 867249