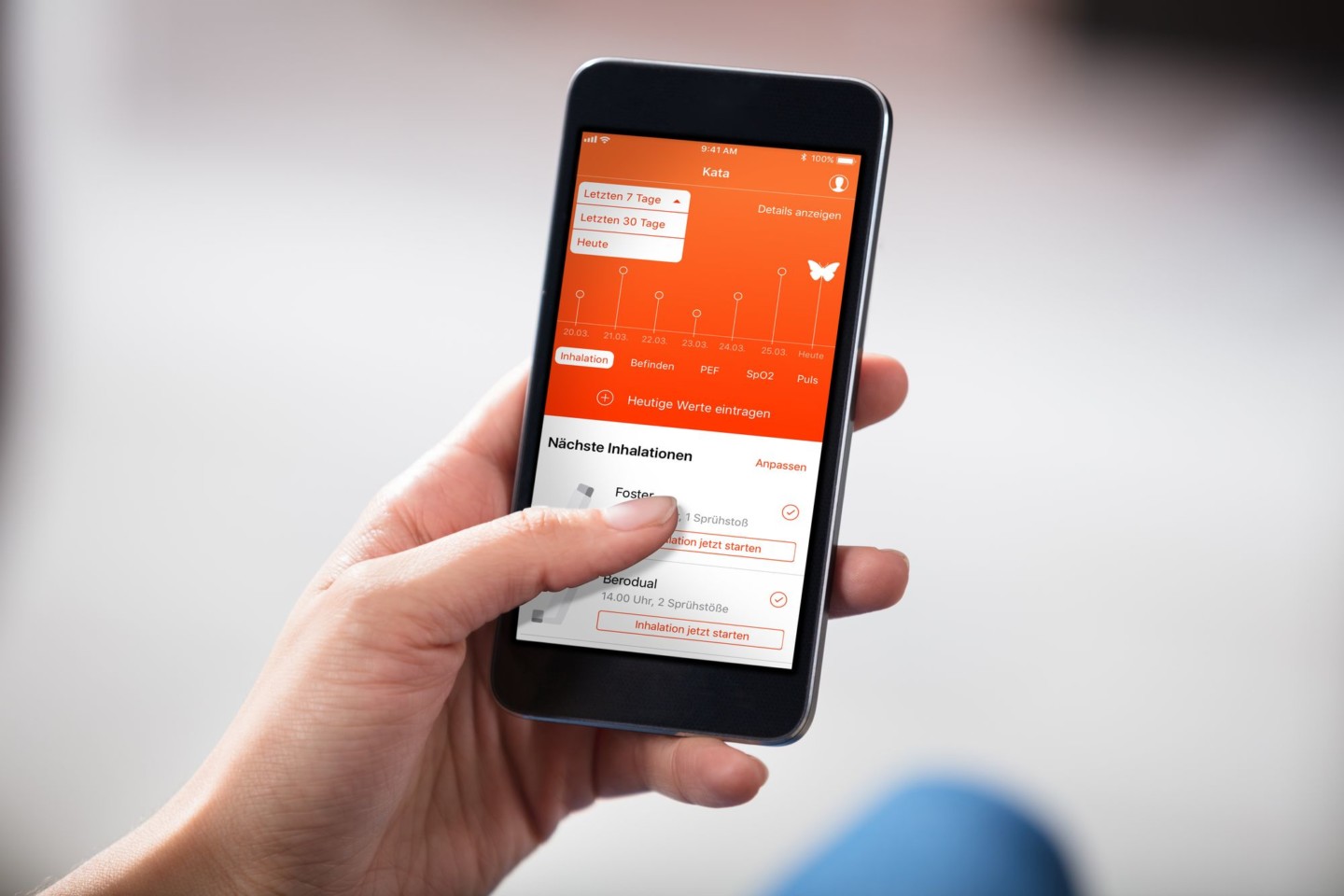 28 Mar

1.5 million Euro for DiGA pivotal study and market preparation

VisionHealth raises 1.5 million Euro for DiGA pivotal study and market preparation of inhalation therapy app Kata®
Consortium of existing shareholders supports financing and welcomes two new investors
Funds will be used for regulatory approval and commercial launch of the Kata® app in Germany
Garching (Germany), February 26, 2021 – VisionHealth GmbH, a pioneer of digital therapy support in inhalation therapy for the treatment of chronic respiratory diseases, announces the successful closing of a 1.5 million Euro financing round, which attracted both existing and new investors. Health economic expert Dr. Thomas Ecker and the Vantage Value GmbH, a Family Office in Eching (Germany), broaden the investor base. Erwin J. Schimmer of Vantage Value will take a seat on VisionHealth's board of directors.
For the approval process of the Kata® app by the German Federal Institute for Drugs and Medical Devices, BfArM, the Company will conduct a health economic trial with parts of the proceeds. Approval as a Digital Health Application (DiGA, or "app on prescription") within the framework of the German Digital Health Care Act (DVG) will enable permanent reimbursement by German health insurance companies. Furthermore, the funding supports market entry in Germany and partnering projects for additional revenue generation, such as licensing Kata® to pharmaceutical and medtech companies or using the app to increase clinical data quality and remote patient support in clinical trials in respiratory medicine.
VisionHealth is developing the digital therapy app Kata® as a classified medical device to assist patients with their inhalation therapy for respiratory diseases. Kata® is designed to help patients recognize and correct mistakes in their drug inhalation processes with the aim to improve the therapy outcome. The incorrect administration of inhaled drugs is a common problem of chronic respiratory patients, with different studies reporting error rates as high as between 32 and 100 %.[1], [2], [3], [4], [5] This causes a high unmet medical need due to lower drug deposition in the lungs and ultimately, higher rates of complications and exacerbations in the most prevalent chronic lung diseases, Asthma and Chronic Obstructive Pulmonary Disease (COPD).[6] Especially in COPD, every exacerbation was shown to lead to an irreversible loss of lung function.[7] Better disease control with fewer exacerbations and consequently lower hospitalization rates could lead to massive cost savings for public health systems.6 Worldwide, Kata® could support the therapy of approximately 250 million patients suffering from chronic respiratory diseases, with an estimated 8.9 million cases alone in Germany.[8], [9]
Erwin J. Schimmer, Managing Director at Vantage Value GmbH and new member of the board of directors of VisionHealth, explained: "We were impressed by the efficacy of the Kata® technology, which is based on many years of experience and deep knowledge of the frequent application mistakes of patients. This is how digital therapy support should work. In the future, digital health applications will become more and more important in the healthcare sector and will soon be part of everyday practice and clinical routine. With an outstanding team with in-depth experience, VisionHealth has recognized this need and implemented a pioneering technology."
Dr. Sabine Haeussermann, CEO and founder of VisionHealth, commented: "We are grateful to see the continuing support of our existing shareholders and the genuine interest of our new investors. We are certain that Kata® will make a difference for many patients and their doctors. We will also use the funds to further extend our partner network and join forces to integrate additional inhalers and functions into the Kata® system. Furthermore, the new funds will give us the opportunity to create evidence that Kata® has a positive impact on health economic outcomes as part of the DiGA application process."
About VisionHealth
VisionHealth GmbH is a pioneer of digital therapy support for respiratory diseases. In cooperation with research institutions and selected industry partners, medical experts and IT experts, VisionHealth develops innovative and unique digital health solutions enabling sustainable improvements in existing standard therapy for patients with chronic respiratory diseases. The private company, based in Garching near Munich, was founded in 2017 by inhalation therapy specialists. Investors are business angels and private investors with many years of industry expertise, particularly in inhalation therapies. www.visionhealth.gmbh
About Kata®
The aim of the Kata® app is to optimize the drug inhalation therapy of chronic lung diseases through digital support. Experience shows that patients frequently fail to correctly perform their necessary and regular inhalation due to a lack of therapy adherence or knowledge. As a result, the prescribed medications are not adequately delivered to the respiratory airways. A multitude of different devices for drug inhalation increases the training effort for physicians and patients and makes therapy monitoring almost impossible. This issue is impressively reflected in around 250 million people worldwide suffering from chronic respiratory diseases who Kata® could bring urgently needed relief. Kata® is a proprietary platform application providing a completely novel and unique combination of artificial intelligence, machine learning, computer animation and augmented reality – it is one of the first digital applications having received medical device certification. www.kata-inhalation.com
Kontakt
Dr. Sabine Haeussermann | CEO | +49 151 701 865 89 | haeussermann@visionhealth.gmbh
VisionHealth GmbH | Lichtenbergstr. 8 | 85748 Garching
Media Kontakt
MC Services AG
Dr. Brigitte Keller
+49 89 210228 0
brigitte.keller@mc-services.eu
References
[1] Press VG et al. J Gen Intern Med. 2011; 26:635-42. https://doi.org/10.1007/s11606-010-1624-2
[2] The Inhaler Error Steering Committee. Respir Med. 2013; 107:37-46. https://doi.org/10.1016/j.rmed.2012.09.017
[3] Price DB et al. J Allergy Clin Immunol Pract. 2017; 5:1071-1081.e9. https://doi.org/10.1016/j.jaip.2017.01.004
[4] Molimard M et al. Eur Resp J. 2017; 49:1601794; https://doi.org/10.1183/13993003.01794-2016
[5] Lindh A et al. Nursing Open 2019; 6:1519–1527; https://doi.org/10.1002/nop2.357
[6] Usmani OS et al. Respiratory Research 2018; 19:10. https://doi.org/10.1186/s12931-017-0710-y
[7] Anzueto A. European Respiratory Review 2010; 19: 113; https://doi.org/10.1183/09059180.00002610
[8] Steppuhn H et al. Journal of Health Monitoring 2017; 2: 37-45; https://doi.org/10.17886/RKI-GBE-2017-052
[9] Steppuhn H et al. Journal of Health Monitoring 2017; 2: 46-54; https://doi.org/10.17886/RKI-GBE-2017-053
This project has received funding from the European Union's Horizon 2020 research and innovation programme under grant agreement No 867249.