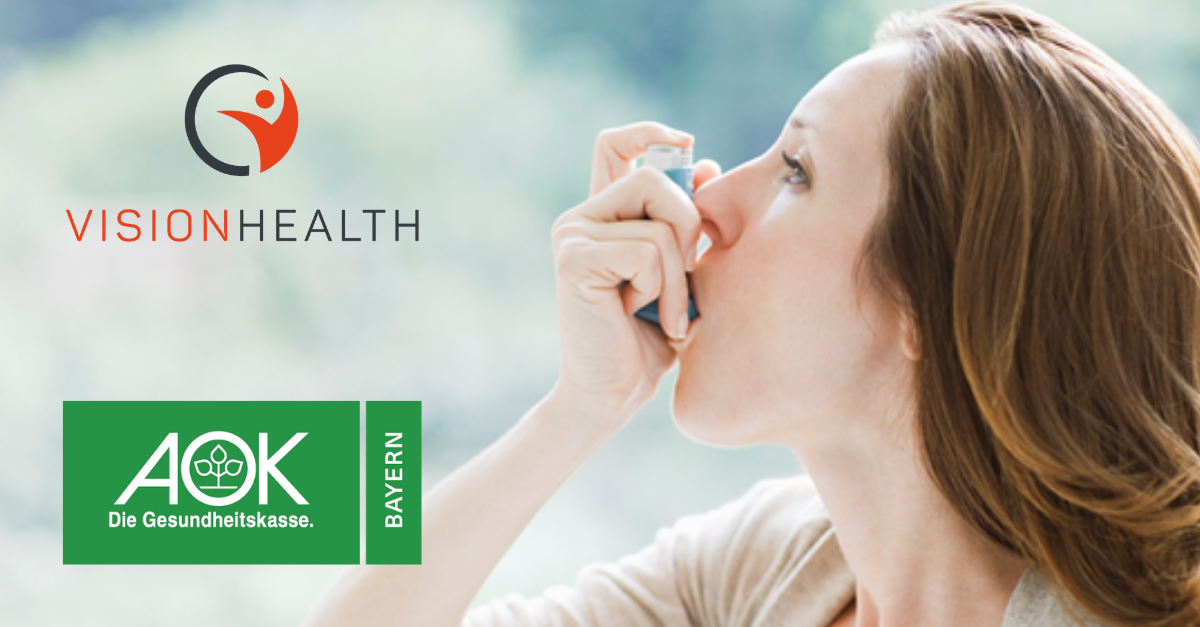 09 Dec

VisionHealth and AOK Bayern start pilot project

VisionHealth and major regional insurer AOK Bayern to start pilot on Kata® digital health app for severe asthma and COPD supporting inhalation therapy
Innovative digital healthcare app Kata® available for the first time to patients covered by statutory health insurance
With Kata®, Bavaria's largest statutory health insurance fund can provide digital support for patients suffering from particularly severe cases of chronic lung disease
Partnership aims to improve quality of life for many patients and create savings by preventing the need for intensive drug therapies
Munich, 9 December 2020 – VisionHealth GmbH and AOK Bayern have initiated a partnership to provide the Kata® digital health application (app) to patients for inhalation therapy. In this pilot project, 1,000 asthma and COPD patients with particularly severe or uncontrolled disease progression will receive free, instant support with their inhaler. Serving as a personal digital health coach, Kata® guides patients in improving their inhalation technique, leading to a better absorption of medication. VisionHealth and AOK Bayern are jointly committed to enhancing the care and quality of life for these patients by focusing on new, digital therapy solutions. From December 2020, AOK Bayern will be the first statutory health insurance fund to offer its policyholders the Kata® digital health app.
About half of the approximately 8.9 million patients in Germany suffering from chronic lung disease,1,2 make critical errors when inhaling their medication, resulting in a lower dose of the active drug substance reaching their lungs.3,4,5 This has serious consequences as underdosed patients experience more severe disease progressions, leading to both unnecessary and expensive visits to the doctor, hospital stays and a poorer quality of life.6.7 VisionHealth has developed its Kata® digital health app based on many years of experience with respiratory diseases and existing therapy approaches. Kata® is a certified medical device that enables the more effective use of inhalers, helping patients to improve their quality of life and avoid intensive therapies.
"Digital health applications are increasingly finding their way into the medical care of patients. Making these technologies easily accessible to patients of AOK Bayern is a key aspect of our digital strategy. The collaboration with VisionHealth, an innovative and reliable partner for digital health applications in the field of respiratory therapy, enables our policyholders suffering from asthma or COPD to improve the use of inhalation systems. This, in turn, significantly enhances the success rate of their therapies. We firmly believe that Kata® offers both benefits and added value," said Dr. Anja Schramm, Head of digital healthcare management at AOK Bavaria.
"When we decided to enter the statutory health insurance market, we were looking for a strong partner who was prepared to go the extra mile with us. We quickly realized that AOK Bayern was a perfect match," said Dr. Sabine Häußermann, CEO at VisionHealth, commenting on the partnership. "Particularly during the COVID 19 pandemic, with its periods of isolation and lockdown, an easily accessible care supplement like Kata® can make the difference when it comes to improving the quality of life of chronically ill patients. We are proud that together with AOK Bayern we are able to provide an innovative care option supporting patients who suffer from particularly severe forms of respiratory disease."
For more information on the Kata® service offered by AOK Bayern go to
https://www.aok.de/pk/bayern/inhalt/eine-app-fuer-richtiges-inhalieren/
About VisionHealth
VisionHealth GmbH specializes in providing digital support for the treatment of respiratory diseases. Working with research institutions and selected industry partners, the company's medical and IT experts develop innovative digital health solutions that enable sustainable improvements in therapy quality for patients with lung and respiratory diseases in a networked world. The private company, based in Garching near Munich, was founded in 2017 by specialists in inhalation therapy and currently has 9 employees. Its investors are business angels or private investors with many years of industry expertise, particularly in respiratory therapy. www.visionhealth.gmbh
About Kata®
The aim of the Kata® app is to improve the inhalation treatment of various lung diseases through digital therapy support. Experience shows that patients implement their treatment plan with varying degrees of diligence or fail to implement them correctly due to a lack of knowledge. As a result, the prescribed medication is not adequately delivered to the respiratory tract. The multitude of different inhaler models available makes it harder for physicians and patients to get acquainted with the equipment and makes therapy monitoring more difficult. Over 600 million people worldwide suffer from chronic respiratory diseases for which Kata® could be used or prescribed as a therapy. The application is a combination of artificial intelligence, machine learning, computer animation and augmented reality and was one of the first digital applications to receive medical device certification.
Contact
Dr. Sabine Häußermann | CEO | +49 151 701 865 89 | haeussermann@visionhealth.gmbh
VisionHealth GmbH  | Landsberger Str. 72 | 80339 München | Germany
Media contact
MC Services AG
Dr. Brigitte Keller
+49 89 210228 0
brigitte.keller@mc-services.eu
References
1) RKI. 12-Monats-Prävalenz der bekannten chronisch obstruktiven Lungenerkrankung (COPD) in Deutschland. https://doi.org/10.17886/RKI-GBE-2017-053
2) RKI. 12-Monats-Prävalenz von Asthma bronchiale bei Erwachsenen in Deutschland. https://doi.org/10.17886/RKI-GBE-2017-052
3) Respiratory Medicine (2008) 102, 593–604
4) Respiratory Medicine (2011) 105, 930e938
5) Respiratory Medicine (2013) 107, 37e46
6) Price et. al. Inhaler errors in the CRITIKAL study
7) Molimard et. al. Eur Respir J 2017; 49: 1601794