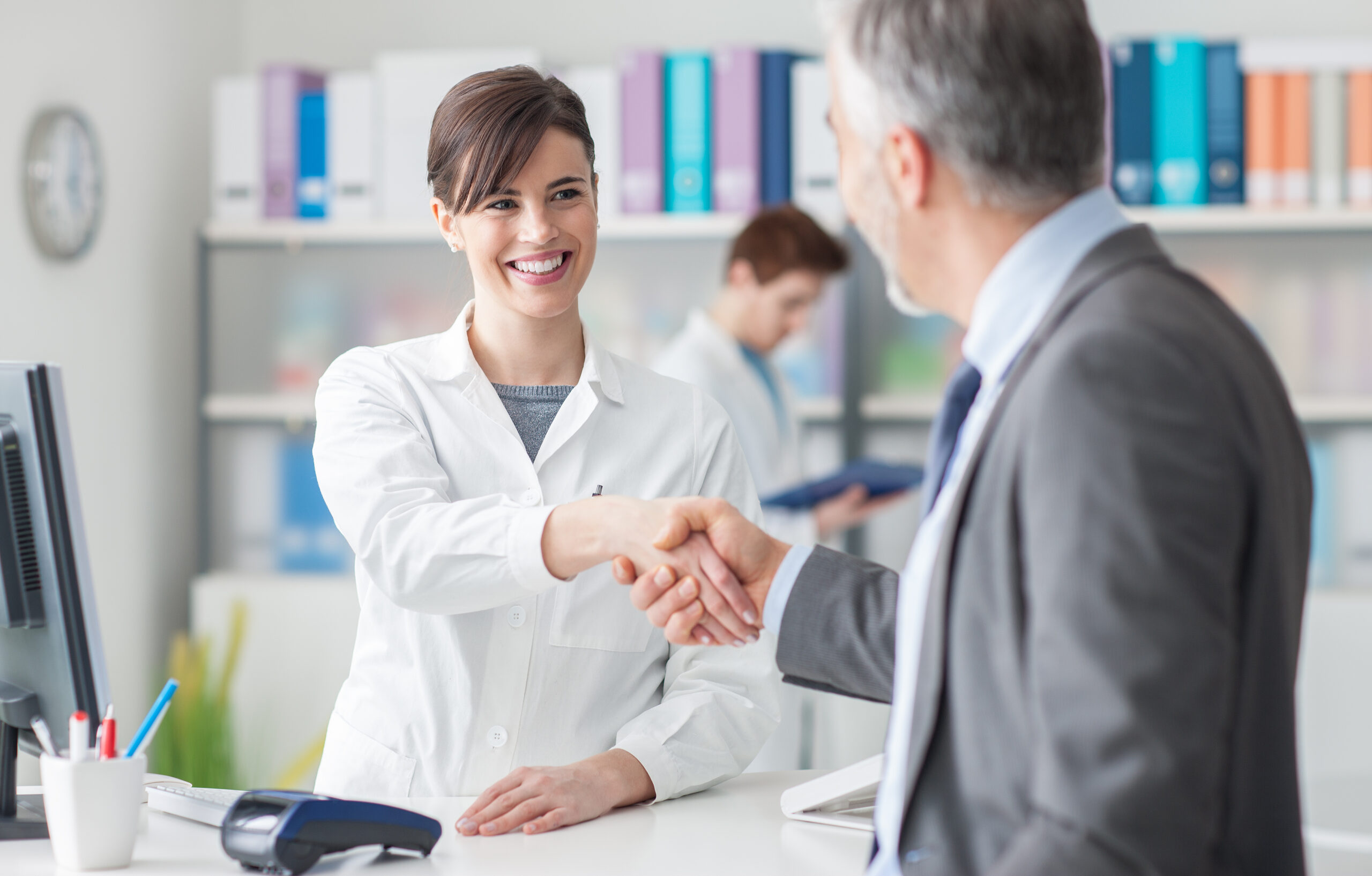 10 Nov

VisionHealth expands Kata® to Kata® Clinical

VisionHealth adds Clinical Trial Function to Kata® App supporting and optimizing inhalation therapy of chronic lung diseases
Kata® Clinical, the new specialized version of Kata® offers clinical trial specific extended functionality
Kata® Clinical can be customized to partners' needs; options include data management and result validation, patient management, inhalation training and monitoring, recording of patient-generated data and electronic trial diaries
Kata® Clinical meets all regulatory prerequisites for use in clinical trials
The aim of the Kata® app for patients is to optimize the drug inhalation therapy of chronic lung diseases through digital support
Munich (Germany), November 4, 2021 – VisionHealth GmbH, a pioneer in digital therapeutics (DTx) for the inhaled treatment of chronic lung diseases, today announced the launch of its Kata® Clinical app offering, a new version of the Kata® app with extended features. With Kata® Clinical, VisionHealth aims to create new possibilities for sponsors and contract research organizations (CROs) conducting clinical trials in chronic respiratory diseases, leveraging the Kata® technology to enhance the participants' experience and improve study outcomes at the same time.
"Kata® Clinical may take both data and patient management in respiratory trials to a new level. Based on the customized adaptation to the specific needs of a study, data collection and management can be conducted more efficiently and are less error-prone due to automation," said Dr. Sabine Häußermann, CEO and founder of VisionHealth GmbH. "We are convinced that study outcomes will significantly benefit from enhanced patient interactions. Kata® can ensure accurate drug dosing through correctly performed inhalation, positively impact adherence, and ultimately improve therapeutic outcomes while reducing overall trial costs: with Kata®, less patients allow for the same statistical power."
The newly launched Kata® Clinical allows remote collection of high-quality data, including clinical parameters and conditions. Further, the app allows for monitoring patients' adherence, the review of individual inhalation history and disease progression parameters, as well as guidance to correct inaccurate administration of inhaled drugs. Kata® Clinical can provide a direct link between the study centers and each patient, allowing the centers to supervise and monitor the patient in real-time and ensuring that no appointments in the study center are missed. Furthermore, the system supports automatic data upload into the electronical case report form (eCRF compliant) and is thus compatible with most common study data management systems. In order to match individual clinical trial requirements, the functions included in Kata® Clinical can be customized to each partner's specific needs, such as diary functions, daily questionnaires or medication reminders.
Kata® Clinical complies with the criteria of good clinical praxis (GCP) and meets all technical, regulatory and data protection regulations, qualifying it for the use in clinical studies. The Kata® platform builds on VisionHealth's proprietary artificial intelligence (AI) algorithm to monitor and support correct inhalator usage for the therapy of chronic lung diseases.
The incorrect administration of inhaled drugs is a common problem of chronic respiratory patients, with different studies reporting error rates as high as between 32 and 100 %.1, 2, 3, 4, 5 Incorrect inhalation and resulting underdosing of drugs cause a high unmet medical need and higher rates of complications and exacerbations in the most prevalent chronic lung diseases, Asthma and Chronic Obstructive Pulmonary Disease (COPD).6 Especially in COPD, every exacerbation is known to cause an irreversible loss of lung function.7 Better disease control with fewer exacerbations and consequently lower hospitalization rates could lead to massive cost savings for public health systems.6 Worldwide, Kata® could support the therapy of approximately 250 million patients suffering from chronic respiratory diseases, with an estimated 8.9 million cases alone in Germany.8, 9
About VisionHealth
VisionHealth GmbH is a pioneer of digital therapy support for respiratory diseases. In cooperation with research institutions and selected industry partners, medical experts and IT experts, VisionHealth develops innovative and unique digital health solutions enabling sustainable improvements in existing standard therapy for patients with chronic lung diseases like asthma and COPD. The private company, based in Munich, was founded in 2017 by inhalation therapy specialists. Investors are business angels and private investors with many years of industry expertise, particularly in inhalation therapies. www.visionhealth.gmbh
About Kata®
Kata® is a VisionHealth proprietary platform based on artificial intelligence to support inhalation therapy. The aim of the Kata® app for patients is to optimize the drug inhalation therapy of chronic lung diseases through digital support. Clinical evidence shows that patients frequently fail to correctly perform their necessary and regular inhalation due to a lack of therapy adherence or knowledge. As a result, the prescribed medications are not adequately delivered to the respiratory airways. A multitude of different devices for drug inhalation increases the training effort for physicians and patients and makes therapy monitoring almost impossible. This issue is impressively reflected in around 250 million people worldwide suffering from chronic lung diseases who Kata® could bring urgently needed relief. Kata® is a proprietary platform application providing a completely novel and unique combination of artificial intelligence, machine learning, computer animation and augmented reality – it is one of the first digital applications having received medical device certification.
A modified Kata® app for Clinical Trials (Kata® Clinical) combines data and patient management to enhance the participants' experience and improve study outcomes at the same time. Based on the customized adaptation to the specific needs of a study, data collection and management can be conducted more efficiently and are less error-prone due to automation. www.kata-inhalation.com
Contact
Dr. Sabine Häußermann | CEO | +49 151 701 865 89  | haeussermann@visionhealth.gmbh
VisionHealth GmbH | Landsberger Str. 72 | 80339 München
Media Contact
MC Services AG
Katja Arnold / Dr. Brigitte Keller
+49 89 210228 0
brigitte.keller@mc-services.eu
[1] Press VG et al. J Gen Intern Med. 2011; 26:635-42. https://doi.org/10.1007/s11606-010-1624-2
[2] The Inhaler Error Steering Committee. Respir Med. 2013; 107:37-46. https://doi.org/10.1016/j.rmed.2012.09.017
[3] Price DB et al. J Allergy Clin Immunol Pract. 2017; 5:1071-1081.e9. https://doi.org/10.1016/j.jaip.2017.01.004
[4] Molimard M et al. Eur Resp J. 2017; 49:1601794; https://doi.org/10.1183/13993003.01794-2016
[5] Lindh A et al. Nursing Open 2019; 6:1519–1527; https://doi.org/10.1002/nop2.357
[6] Usmani OS et al. Respiratory Research 2018; 19:10. https://doi.org/10.1186/s12931-017-0710-y
[7] Anzueto A. European Respiratory Review 2010; 19: 113; https://doi.org/10.1183/09059180.00002610
[8] Steppuhn H et al. Journal of Health Monitoring 2017; 2: 37-45; https://doi.org/10.17886/RKI-GBE-2017-052
[9] Steppuhn H et al. Journal of Health Monitoring 2017; 2: 46-54; https://doi.org/10.17886/RKI-GBE-2017-053
This project has received funding from the European Union's Horizon 2020 research and innovation programme under grant agreement No 867249