03 Jul

VisionHealth wins Vision.A Award 2020

Health App Kata® receives VISION.A Award

Gold in the category "Best innovation on the healthcare market"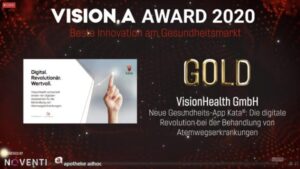 The VISION.A Awards were presented for the fifth time on 25 June 2020. Our inhalation trainer was awarded for the category "Best Innovation in the Healthcare Market". In this category, innovative treatment approaches that shape the healthcare market were tested and compared. This involves the latest technologies and groundbreaking findings in science and research. After numerous submissions, a total of 31 made it onto the shortlist in this category – VisionHealth with Kata® was able to stand up to all of them in the end.
This year the awards ceremony took place in digital form. So it is possible to see the whole award ceremony online again (german). This year the jury was even more versatile than in previous years. One reason for this was the exclusive partner of the event NOVENTI, who was able to enrich the jury with his expertise on the national and international healthcare market.
We received the joyful news at the end of our company hike on 25 June. There could not be a more cheerful end to our excursion. We are proud and very happy about all the opportunities this recognition offers us.
About Vision.A
VISION.A is changing. Year after year. And once again in the year 2020 in particular: the digital conference took place from 22 June to 3 July 2020 as a purely online format. Together with our exclusive partner NOVENTI and the top presenter APOTHEKE ADHOC, we live the rapid change of Pharma & Pharmacy, create spaces in which current topics and future visions can be experienced and discussed together. NOVENTI as the market-leading designer of the digital health market in Germany is our initiator. With the focus on "Everything on communication", the fifth edition in 2020 featured new formats, new faces, and above all new insights: In impulse lectures with workshop character, the participants became part of the program – and all this in digital form. Digitization has long since reached us. Now it's all about communication and thus about dealing with the eternally new.
More at https://vision.apotheke-adhoc.de (german)